---
R. S. Hornsby passed away January 15, 2009.

R. S. Hornsby was a beloved soul, inquisitive spirit, a respected and jubilant musician, and a man of excellent humor and kind heart who will be missed by the many who knew and loved him.

R. S. Hornsby's last recording was a memorable solo in "Continents Drift" for the 2009 album by Bruce Hornsby and the Noisemakers, Levitate. Bruce says: "I love the fact that this beautiful, long solo that R. S. played can serve as his last testament. He was a beautiful player; he really had the gift. He played with a lot of soul, a lot of feeling."

The 24th of January is R.S.'s birthday.

Let that always be a day to celebrate life, especially thirteen years later as we move forward into 2022.

Remember sweet and glorious music, long and hearty laughter, and the joy of friendship and love.
---
On Thursday, January 15, 2009, R. S. Hornsby did not survive a single-car accident near his home west of Charlottesville, Virginia. The 28-year-old guitarist was alone in the car when it crashed into a tree around 11:30 p.m. along an icy country road at the foot of Buck Mountain on one of the coldest nights of the year. Police said he had been wearing a seatbelt and his airbag deployed, but to no avail.

Bruce Hornsby, R. S.'s uncle, told reporters: "R. S. was such a great person, so bright and funny, and a beautiful, soulful musician who moved so many. It's a huge, deep loss for our family."

R. S. attended the University of Vermont in Burlington, and after graduation he returned to Virginia. He was a strong presence in the diverse Charlottesville music scene, where he performed live and recorded with many artists and bands.

An accomplished guitarist from an early age, R. S. first joined Bruce Hornsby onstage at the Telluride Bluegrass Festival in the summer of 2000. He continued to perform with his uncle, both live and in the recording studio. He can be heard on the albums Halcyon Days, Intersections, Bride of the Noisemakers, and is a featured soloist on Levitate, the 2009 album by Bruce Hornsby and the Noisemakers.
---

Feel no guilt in laughter, he knows how much you care.
Feel no sorrow in a smile he is not here to share.
You cannot grieve forever; he would not want you to.
His hope is that you carry on the way you always do.
So talk about the good times and the ways you showed you cared,
The days you spent together, and the happiness you shared.
Let memories surround you and a word someone may say,
Will suddenly recapture, an hour or a day,
That brings him back so clearly, as though he were still here,
And fills you with the feeling that it's his guitar you hear.
For if you keep those moments you will never be apart
And he will live forever, held so safe within your heart.
---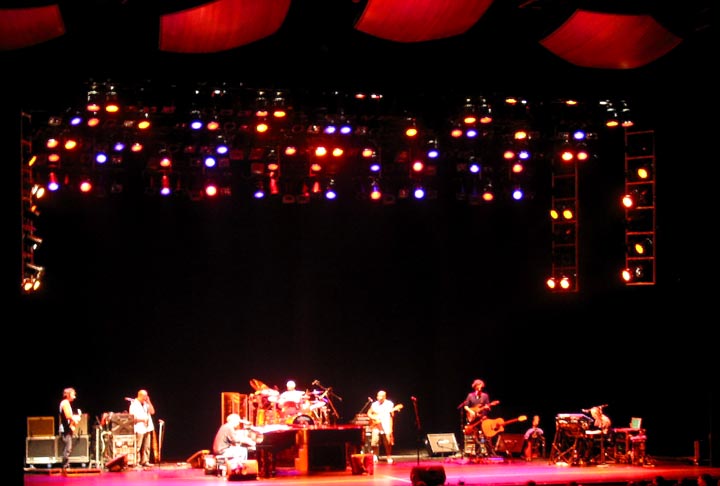 Special Thanks to Hornsby family friend Si Twining
who has created a special web tribute page for R.S. Hornsby on his excellent bruuuce.com website
---
Audio files of Bruce Hornsby and the Noisemakers with R.S. Hornsby:
"Across The River- Morning Dew-Across the River"
---
Home Biography Photos Audio Video
---